UNIVERSAL OVJP® (Organic Vapor Jet Printing)
Organic Vapor Jet Printing (OVJP) is a solvent-less, mask-less deposition technology for depositing organic materials to manufacture large area OLED displays. OVJP makes possible the direct printing of RGB side-by-side TV displays. This technology represents a low cost, high performance, large area patterned OLED manufacturing process platform.
Universal OVJP is a novel printing process, which allows manufacturers to use a gas stream to "print" small-molecule OLED materials onto panels.
Universal OVJP allows panel makers the option to use the same type of commercially proven materials that are in existing vacuum deposition systems.
It combines the benefits of using small-molecule materials, the industry's trusted standard, and the foundation for all of today's OLED products, with a printing (no fine metal mask [FMM]) process, while also avoiding the intractable and fundamental limitation of inkjet printing (IJP).
OVJP process does not use liquid solvents and therefore the OLED materials utilized are not limited by their viscosity or solvent solubility. Eliminating liquid solvents from the printing process eliminates the additional step of removing the solvent from printed films. Furthermore, IJP OLEDs are limited in operational lifetime due to impurities left in the film by the solvents. With OVJP, such lifetime limitations do not exist. We have designed and installed an OVJP prototype tool at our Ewing, New Jersey facility. Efforts to commercialize mass production OVJP equipment are ongoing as OVJP refinement and research continue with UDC's university and technology partners.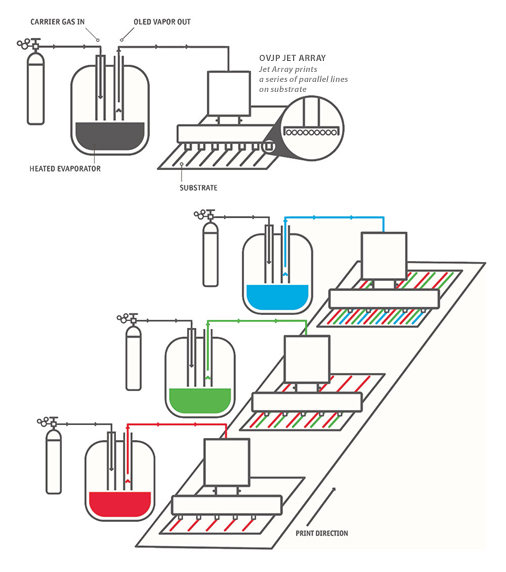 With OVJP, organic molecules are evaporated into a carrier gas that delivers them to a jet engine for direct printing of patterned OLED layers.
Key benefits of OVJP are:
Scalable to large areas, i.e., to produce RGB OLED TV's
High material utilization and fast TAKT times
Precisely controlled doping and film thickness
No need for fine metal masks (FMMs)
Evaporable materials (VTE)
Standard backplane substrates
Materials condense (as in VTE)
Process complete in one chamber
No air exposure
Advanced layer structure designs enabled